Mattress Buying Guide For Side Sleepers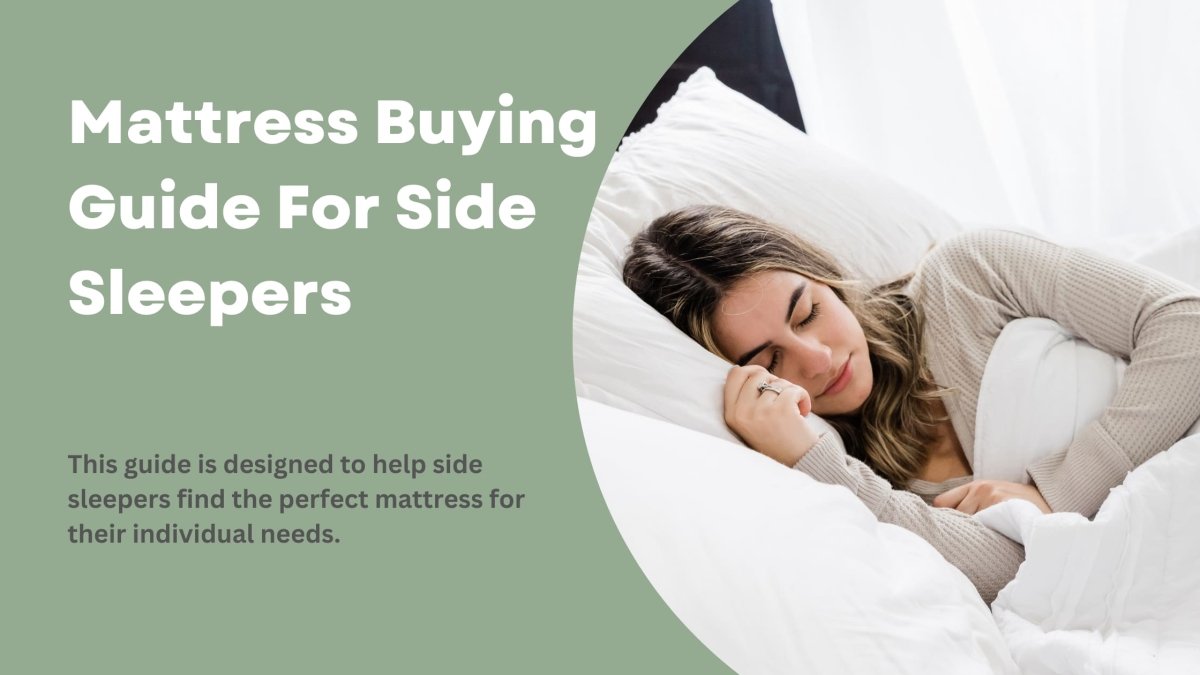 When you lie down for a good night's sleep, you know what a difference the right mattress can make. 
However, you might not understand how important it is to select a model that works best with your sleep position. 

If you're like most people, you need to know a little bit more about choosing a mattress for side sleepers.

Do you prefer drifting off stretched out on your back? 


Are you more comfortable sleeping on your stomach? 
For 63 percent of our country's population, the answer to both questions is no. Most of us lie down on our side, relax, and sleep in that position through the night. We're members of the majority known as side sleepers.
Everyone's a Little Different


While most of us sleep on our sides, we don't all settle in the same way. If you tuck your arm behind your head, it seems comfortable. Once you fall into a deep sleep, the position affects muscles and nerves resulting in a dull numbness that feels like pins and needles when you awaken.
Sleeping on your side with your arm slipped under your body causes problems too. It restricts blood flow, forces your shoulder to support your weight and constricts the muscles in your neck. When you sleep on your left side with your arm down and under your head or body, you're also putting pressure on your stomach and lungs.


As a side sleeper, how can you get a good night's rest without changing your personal sleeping style?

Choosing the Best Mattress for Side Sleepers
While you're in the majority as a side sleeper, you still have individual preferences in mattress types. Health issues, sleeping habits and even your budget all play a part in finding a bed that really fits you. Let's take a look at two important factors you should consider when you're choosing a mattress for side sleepers.


1. Mattress Support: Soft or Firm?

In case you switch between side and back it's best if you go with a little firmer just to be sure you are comfortable on both positions


2. Mattress Type: What Are Your Options?


Different mattress designs and materials combine to deliver different sleeping experiences. Your bedding options range from the affordable comfort of  pocketed coil mattresses to models constructed with hypoallergenic materials. This is good news for side sleepers who want to address these specific needs.
Painful Pressure Points - Fortunately, the best mattress for side sleepers with shoulder pain is also the best mattress for side sleepers with hip pain. Natural Latex bedding materials conform to your body so that you enjoy supple support without painful pressure on shoulders and hips.
It is also worth mentioning that some people are very used to firm beds. If you simply prefer a firm mattress and you sleep on you side, then you'll do best to get a medium latex mattress. The latex will reduce the pressure on you hip and shoulders.

Choosing the Best Mattress for You

The Natures Novel Latex Mattress

When Nature and Science Write a Novel
The soft touch of a wool cover, the natural mold of Talalay latex and the solid support of Dunlop latex, engineered by science to bring you restful nights and blissful mornings.
Natural Contouring Supplemented by Firm Support

Our Talalay latex molds perfectly to the shape of your body making it ideal for back and stomach sleepers,
while our Dunlop latex is both firm and responsive to give you the right support.
Here are just a few points about the Natures Novel Mattress
1. Our mattresses feature natural wool covers:

Only natural wool can be good for both hot and cold weather as it reacts to your temperature. So, it cools you in hot weather and warms you in cold weather. Wool is also antiallergenic, flexible and very durable. University of Sydney studies have shown that wool sleeping apparel and bedding increases total sleep time, promotes sleep onset and improves sleep efficiency. To complement the natural wool, we also added natural cotton to give that luxury soft feel to the cover
2- Natural Talalay Latex:

Our 100% natural Talalay latex molds perfectly to the shape of your body. It is hypoallergenic, eco-friendly, and extremely durable. This Talalay latex offers a cool and refreshing sleep as it is naturally breathable. It is sourced from rubber trees that are not harmed in the process, making it completely renewable. Our latex is made right here in the U.S. and is Oeko-Tex certified as Class I, the highest rating possible for any mattress.

3- OEXO-TEX Certified

The Natures Novel mattress is tested by OEKO-TEX and given the highest standard a mattress can get which is class 1 of OEKO-TEX certification. Class 1 means that a product is safe even for babies and toddlers! The Natures Novel mattress is made without prohibited phthalates, ozone depleters, PBDEs, Mercury, Lead, heavy metals, formaldehyde or any harmful chemicals. The STANDARD 100 by OEKO-TEX® is a worldwide consistent, independent testing and certification system for raw, semi-finished, and finished textile products at all processing levels, as well as accessory materials used.
www.oeko-tex.com

4- Non-Toxic Safe and Renewable
Our wool and cotton are 100% natural and come from renewable resources. The Talalay process features natural biodegradable ingredients that come from renewable resources and water-based raw materials: natural latex, air and water. The rubber trees are not harmed in the latex harvesting process. In fact, they are productive for 25 years, absorbing carbon dioxide from the atmosphere and helping to reduce greenhouse gases. We do not use any ozone-depleting substances, chemical adhesives or chemical fire retardants in our mattresses.

5- Natural Wool Fire Retardant
The Natures Novel uses natural wool as fire retardant. This way the mattress passes fire laws and is not a fire hazard while staying healthy. Since its required by law, all mattresses must have a fire barrier. The law however does not restrict manufacturers from using chemicals as fire retardants, so most manufacturers take the cheap route.
Our 100% Natural Talalay Latex Difference
- Our Talalay latex is more breathable. Talalay cells are 50% larger and do not trap heat. This creates a temperature neutral environment that will not interrupt your sleep.
-It is hypoallergenic: it is ideal for people with allergies and asthma. It is naturally mold, mildew and dust mite resistant. It is also inherently antibacterial and anti-fungal.
- It is more comfortable and more durable: the cooling then heating process of Talalay creates a purer latex where cells are evenly distributed. This gives the latex better pressure relief and longevity.
- It is healthier: our Talalay latex is Oeko-Tex certified as Class I, the highest rating possible. This certification verifies our products are free from harmful substances and is even safe for babies.
- It does not gas off: you may notice the "new bed smell" of the latex when it first arrives, but you can rest assured that no harmful chemicals are being released because Talalay is made of only natural ingredients.
We Love Our Job
It's our job here at Sweet Zzz to help you get the best night's rest possible. We're committed to your satisfaction, so we enjoy sharing insider knowledge and industry information that lets you make bedding choices with confidence.

Come Join Our Family


As you can probably tell, we really enjoy taking care of you with the very best bedding at the very best prices. It's our goal to make sure you and your new mattress are a perfect match. We put years of experience into making it happen with every one of our customers.
Our Sweet Zzz teams are always happy to answer your questions, and we look forward to making you a part of our family. You want the best night's sleep possible and we can make that happen.
---