Mattress Buying Guide For Hot Sleepers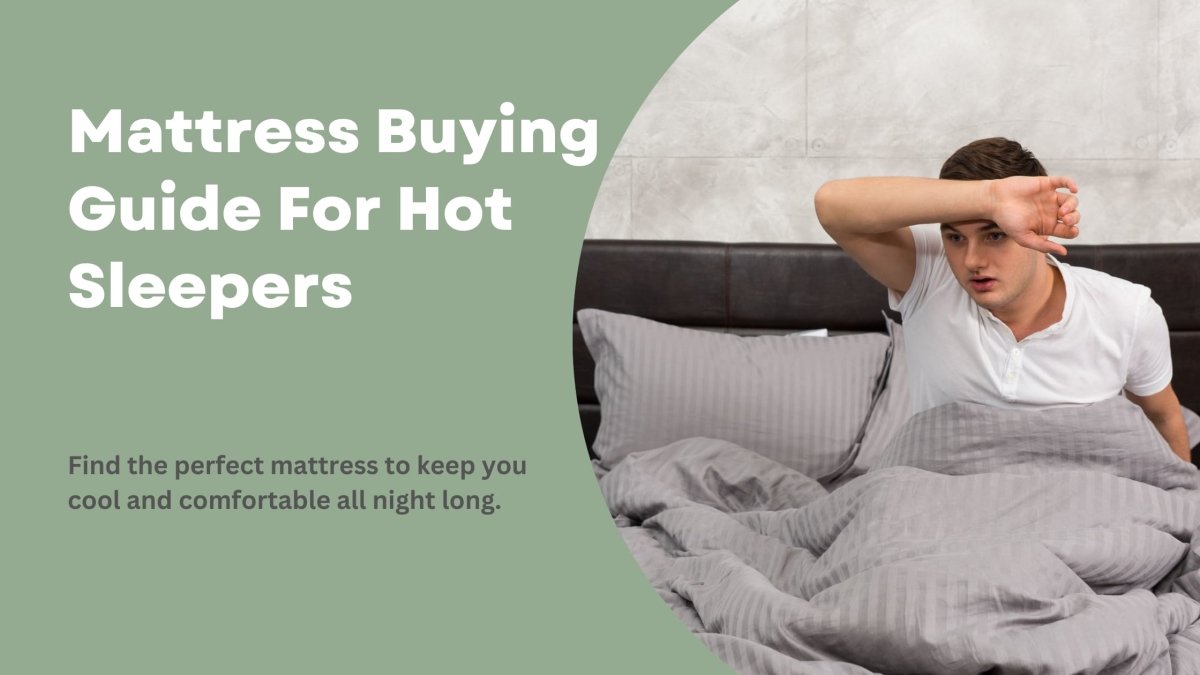 It wasn't too long ago that your options were limited.


If you wanted to sleep cool through the night, you tossed off the covers, turned down the AC and turned on a bedside fan.

Those strategies didn't always work.

You can thank modern technology for so many things today including beds that offer real choices in comfort, support and ideal sleeping temperatures.

When customers ask us about the best cooling mattresses for hot sleepers, they're often surprised by our answer: It depends on what you need and what you like.
Blame the Old Mattress

When doctors and scientists discuss our circadian rhythms, they explain that our bodies naturally cool down as we slip into a deep sleep. The cells in our brains that regulate body temperature actually switch off. Why do so many of us overheat at night? In most cases, you can blame the old mattress.

Kicking off the sheets can't cool you down when your bed can't dissipate built-up warmth. Less nightwear and lighter linens don't help when you're sleeping on materials that trap body heat. The old bed can't keep you comfortable at night because it's just not constructed to perform like a cooling mattress.

That brings us back to thanking modern technology. There are so many bedding options designed especially for cool comfort, but there are important differences too. Our buying guide can help you select a new mattress that's exactly what you need, want and like.



Choose What's Best for You

It's a medical fact that a good night's sleep is essential to your long-term health , but how do you select a bed that fits you? Do you go with the best cool memory foam mattress or a hybrid? Do you choose a blended bamboo mattress or innersprings? You might wonder, "Is gel memory foam cooler than a regular foam mattress?"

When you're trying to decide on how to buy a mattress, we always recommend that you think of yourself first. What do you want in a new mattress? Which of these considerations are important to you?

• Comfortable support on a bed that sleeps cool
• The familiar feel of quality innersprings
• Organic materials that help alleviate health concerns
• Deep pressure relief for aching muscles or old injuries
• A cool, comfortable mattress that's easy on the budget

When you match your individual needs to the right cooling mattress model, you have both a bed and a sleep solution that's perfect for you. Our bedding specialists here at Sweet Zzz want you to make that perfect match.

The Best mattress for Hot Sleepers

The Natures Novel Latex Mattress
When Nature and Science Write a Novel
The soft touch of a wool cover, the natural mold of Talalay latex and the solid support of Dunlop latex, engineered by science to bring you restful nights and blissful mornings.

Natural Contouring Supplemented by Firm Support
The soft touch of wool cover, the natural mold and solid support of Talalay latex,
engineered by science to bring you blissful mornings and restful nights.
Here are just a few points about the Natures Novel Mattress

1. Our mattresses feature natural wool covers instead of the so-called smart covers found on other beds. 
Only natural wool can be good for both hot and cold weather as it reacts to your temperature. So, it cools you in hot weather and warms you in cold weather. Wool is also antiallergenic, flexible and very durable. University of Sydney studies have shown that wool sleeping apparel and bedding increases total sleep time, promotes sleep onset and improves sleep efficiency. To complement the natural wool, we also added natural cotton to give that luxury soft feel to the cover
2- Natural Talalay Latex:

Our 100% natural Talalay latex molds perfectly to the shape of your body. It is hypoallergenic, eco-friendly, and extremely durable. This Talalay latex offers a cool and refreshing sleep as it is naturally breathable. It is sourced from rubber trees that are not harmed in the process, making it completely renewable. Our latex is made right here in the U.S. and is Oeko-Tex certified as Class I, the highest rating possible for any mattress.
3- OEXO-TEX Certified

The Natures Novel mattress is tested by OEKO-TEX and given the highest standard a mattress can get which is class 1 of OEKO-TEX certification. Class 1 means that a product is safe even for babies and toddlers! The Natures Novel mattress is made without prohibited phthalates, ozone depleters, PBDEs, Mercury, Lead, heavy metals, formaldehyde or any harmful chemicals. The STANDARD 100 by OEKO-TEX® is a worldwide consistent, independent testing and certification system for raw, semi-finished, and finished textile products at all processing levels, as well as accessory materials used.
www.oeko-tex.com
4- Non-Toxic Safe and Renewable

Our wool and cotton are 100% natural and come from renewable resources. The Talalay process features natural biodegradable ingredients that come from renewable resources and water-based raw materials: natural latex, air and water. The rubber trees are not harmed in the latex harvesting process. In fact, they are productive for 25 years, absorbing carbon dioxide from the atmosphere and helping to reduce greenhouse gases. We do not use any ozone-depleting substances, chemical adhesives or chemical fire retardants in our mattresses.
5-  Natural Wool Fire Retardant

The Natures Novel uses natural wool as fire retardant. This way the mattress passes fire laws and is not a fire hazard while staying healthy. Since its required by law, all mattresses must have a fire barrier. The law however does not restrict manufacturers from using chemicals as fire retardants, so most manufacturers take the cheap route.
Our 100% Natural Talalay Latex Difference
- Our Talalay latex is more breathable. Talalay cells are 50% larger and do not trap heat. This creates a temperature neutral environment that will not interrupt your sleep.
-It is hypoallergenic: it is ideal for people with allergies and asthma. It is naturally mold, mildew and dust mite resistant. It is also inherently antibacterial and anti-fungal.
- It is more comfortable and more durable: the cooling then heating process of Talalay creates a purer latex where cells are evenly distributed. This gives the latex better pressure relief and longevity.
- It is healthier: our Talalay latex is Oeko-Tex certified as Class I, the highest rating possible. This certification verifies our products are free from harmful substances and is even safe for babies.
- It does not gas off: you may notice the "new bed smell" of the latex when it first arrives, but you can rest assured that no harmful chemicals are being released because Talalay is made of only natural ingredients.
Let Us Help

It's our pleasure to help you decide on how to buy a mattress that fulfills your sweetest dreams of a cool night's sleep. You'll notice that our prices are some of the very best, and we can help you save even more.

Just purchase your new mattress through our website, and enjoy free shipping. We make sure your online ordering experience is easy, fast and secure. Thank you for spending time with us here at our Zzz Magazine where we keep you updated on everything that makes a good night's sleep even better. 
---