Latex vs Hybrid Mattresses (A Complete Guide and Comparison)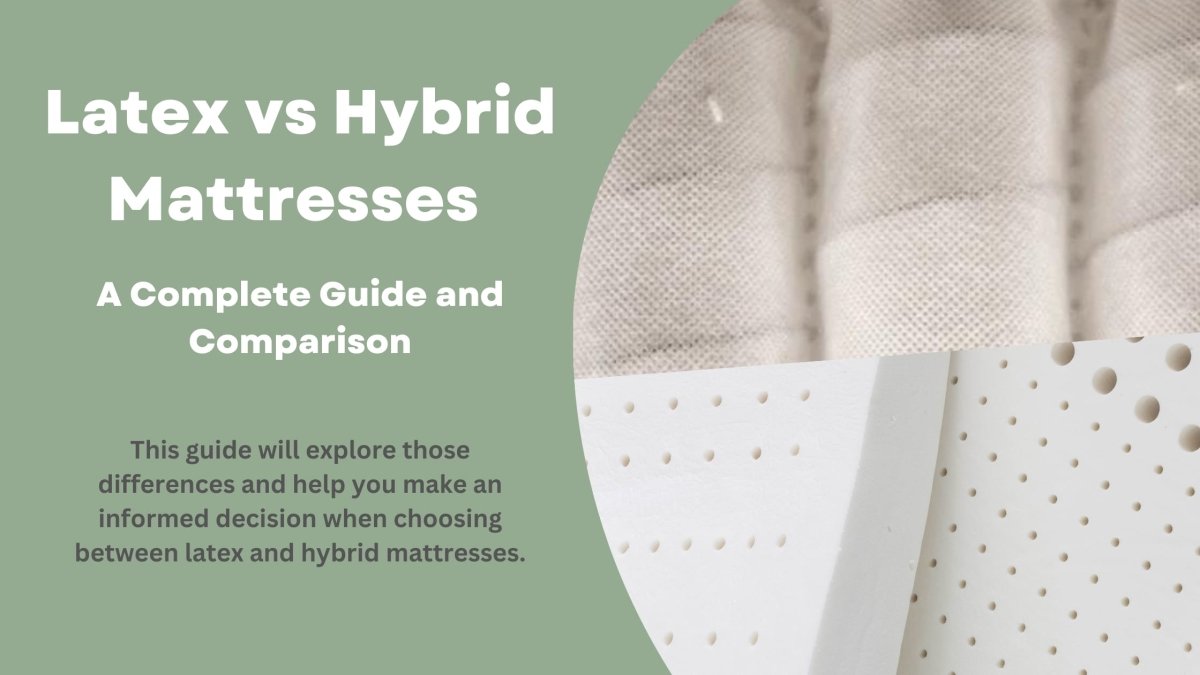 Shopping for a new mattress online starts out as an enjoyable experience, but it can quickly become confusing. You might wonder why latex mattresses made with natural ingredients get such great reviews. You're curious about exactly what makes a hybrid mattress different from other beds.

If you've been thinking about buying a natural latex mattress or a hybrid pocketed coil bed, this guide is designed for you. Both models are very popular, but there are significant differences that set them apart. 


Adding a new mattress to your home is a big change. The right choice will comfort you with peaceful relaxation and tranquil sleep for many years to come. Before you make a final decision, consider the pros and cons of latex mattresses vs hybrid innerspring mattresses.
Latex Mattresses vs Hybrid Mattresses: Pros and Cons

Comparing a latex mattress with a hybrid mattress starts with materials. The very best latex mattresses utilize the use of 100 percent natural Talalay latex. Hybrid spring mattresses are built with pocketed coil and memory foam.

Understanding each bed's construction makes it easier to review the advantages and drawbacks of latex mattresses compared to innerspring mattress pros and cons.
Natural Latex Mattress Pros and Cons
Latex Pros

1. Density Ensures Comfortable Support

Pure latex is a naturally dense material, so it offers comfortable support. If you deal with lower back pain , a latex mattress provides a very supportive sleeping environment. The density of natural latex also helps ease the discomfort associated with arthritis and bursitis.
2. Latex Is Uniquely Responsive

Memory foam has a reputation for contouring to your body with a "sinking in" sensation. Sleeping on an natural latex mattress offers a very different experience. You rest on the bed without feeling as though it's wrapping around you. Couples often comment on how the springy responsiveness of a latex mattress gives romance an extra bounce.
3. Hot Sleepers Stay Cool

The very best latex mattresses feature an open cell structure that rapidly dissipates body heat. This quality keeps you cool all night long. If you consider yourself a hot sleeper , a natural latex bed offers much-needed relief. If you like to snuggle down under the covers, you can still stay cool and comfortable on a latex mattress.
4. Everyone Sleeps Better

A natural latex mattress accommodates all body types and all sleeping styles . It supports heavy body frames in excess of 250 pounds, and it's one of the most comfortable beds for large-boned people. Whether you sleep on your side, back or stomach, the support of natural latex helps you rest easier through the night.
5. Natural Latex Is Very Durable

A natural latex mattress never loses its shape. The material stays firm and supportive even around the edges where you sit. Years of use don't result in lumpy spots or sunken-in areas. The surface stays smooth, and the mattress keeps its shape for 25 years or more. That makes it a smart, long-term investment.
6. Latex Beds Are Adjustable

The average depth of a premium latex mattress measures 12 inches, but the bed is flexible enough to work with adjustable frames. If you already have an adjustable base at home, a natural latex mattress should be a perfect fit. You can also set up the bed on box springs, bed frame slats or the floor.
7. The Best Latex Beds Use 100% Natural Talalay Latex

The best latex beds use 100 percent Talalay latex. You enjoy sleeping in a natural environment that's safe, healthy and made entirely from sustainable materials.
Latex Cons

1. It's a Heavy Mattress

Natural latex is very dense, so it produces a bed that weighs more than any other type of mattress. While its density is a definite plus in many ways, that same quality results in a mattress that can be difficult to move. However, a latex bed never needs turning or flipping. Once it's set up, the mattress is virtually carefree.

2. Latex Beds Are Expensive

Paying for the best comes at a price. Talalay Latex requires 400 percent more manufacturing time than any other type of mattress. Latex also comes from rubber trees, so the very raw materials are more expensive. Remember that even if latex beds are generally more they are worth the price as they last longer and offer you a healthier sleep.
Hybrid Innerspring Mattress Pros and Cons

Hybrid beds are also called hybrid spring mattresses or hybrid pocketed coil mattresses. These beds feature a top layer of memory foam supported by an innerspring base. Hybrid mattresses offer the following pros and cons.
Hybrid Pros 


1. A Hybrid Mattress Feels Traditional

Because of its pocketed coil innersprings, the hybrid mattress creates a sleeping environment similar to traditional beds. People who don't like the sink-in feeling of a regular memory foam mattress often prefer a hybrid. The bed's innerspring system provides extra support that makes the memory foam top more comfortable.

2. Couples Enjoy Hybrids

The memory foam in a well-built hybrid mattress doesn't transfer motion, and that makes it a couple-friendly bed. If either you or your partner tends to be a restless sleeper , a hybrid mattress can help reduce the disturbance from tossing and turning. However, the spring system in a cheap hybrid bed wears out and becomes noisy over time.



3. You Sleep a Little Cooler

A hybrid mattress tends to sleep cooler than a bed made entirely from memory foam. The coil spring base allows air circulation that can help disperse built-up body heat. The hybrid doesn't sleep as cool as a natural, open-cell latex mattress, but it's considered better for hot sleepers than ordinary memory foam beds.

4. The Hybrid Design Is Responsive

Most people don't consider memory foam a responsive mattress material. However, the pocketed coils in a hybrid offset the sink-in feeling of its memory foam top by adjusting to changes in pressure and position. This quality helps minimize the contouring sensation that people experience when sleeping on a traditional memory foam bed.

5. It Works With Adjustable Bases

Most hybrid spring mattresses work well with adjustable bases. This is an important feature if you're replacing an older adjustable model or you want to switch to this type of setup.

6. The Construction Reduces Off-Gassing

The pocketed innerspring system in a hybrid mattress helps dissipate its "new bed" smell. The memory foam top layer is smaller in volume than the layers in a regular memory foam mattress, and that helps control long-term off-gassing. While a natural latex mattress is almost completely odor-free, the hybrid spring bed does reduce the off-gassing problems so common in other memory foam models.
Hybrid Cons

1. Coils Make the Hybrid Heavy

Memory foam by itself is a heavy bed material, but the pocketed coil system adds considerable weight to a hybrid. Moving a hybrid bed can be a chore, so you need to be sure about where you want to set it up before you bring it home.

2. Hybrids Aren't Cheap Beds

A hybrid costs more than a traditional spring mattress or memory foam bed. It's not as expensive as a natural latex mattress, but a hybrid bed comes with a high price point because of its pocketed coil spring system.

3. The Spring System Wears Out

Typically, a hybrid innerspring mattress doesn't hold up as well as a good memory foam bed or a latex mattress. Springs on the best hybrid bed eventually wear out and reduce its comfort and performance.
Latex and Hybrid Similarities

You've probably noticed that there are similarities between natural latex beds and hybrid pocketed coil mattresses. This summary can help you compare those features more closely. 


1. Both Mattresses Are Responsive

Regular memory foam mattresses are popular, but you enjoy a much more responsive feel from a natural latex bed and a hybrid coil mattress. Both models offer comfortable support that offsets the contouring effect of ordinary memory foam mattresses.

2. Each Works With an Adjustable Base

The latex mattress and the hybrid bed both work well with adjustable setups. A natural latex mattress is especially versatile because it's also easy to position on a regular slat bed frame, traditional box springs or the floor.

3. You Enjoy Cooler Sleep

A natural latex mattress and a hybrid mattress let you sleep cooler than a regular memory foam mattress. However, the open-cell construction of pure Talalay latex ensures a cool, comfortable sleeping environment.

4. Both Offer Durability

A well-built hybrid mattress should hold up to normal use for seven to nine years before its pocketed coil system wears out. A natural latex mattress lasts much longer. You can count on sweet dreams for 15 to 20 years.

5. Both Cost More

Latex and hybrid beds aren't inexpensive, but the latex mattress is a better long-term investment. It's made from sustainable, natural ingredients that give it superior durability. The sleeping comfort and support of a latex bed outlasts the hybrid mattress by many years.
Which Mattress Is Your Best Choice?

As you review this comparison and consider a latex vs an innerspring mattress, think about how much you value products made from natural, sustainable materials. You also want top-tier features, and you expect solid, proven durability. Buying a new bed in a box is an investment. You want to make it wisely.

A mattress built with 100 percent natural, long-lasting latex is clearly your better choice. Among the available latex beds sold online, the Nature's Novel stands out as the best of the best .

• The Nature's Novel is made using 100 percent pure Talalay latex .
• It's one of the few beds independently certified safe for babies .
• Happy customers consistently give the Nature's Novel five-star ratings.
• Your investment is protected by a risk-free trial and a lifetime warranty.
• Each mattress is individually handmade right here in the USA.
It's a Decision You'll Sleep on for Years
This guide is designed to give you a balanced overview of natural latex mattresses and hybrid beds. Comparing the two highlights their similarities and their significant differences. Our sleep consultants are always available to answer your questions, and our Sweet Zzz Magazine is great resource for useful and entertaining information.

It's our goal to help you sort through the pros and cons that make a good bed good and an excellent bed outstanding. Once you make your choice, you're making a decision you'll sleep on for years to come. We want you to rest easy on the very best mattress made with both you and our planet in mind.
---