What To Do With Old Mattresses (How To Dispose Of a Mattress?)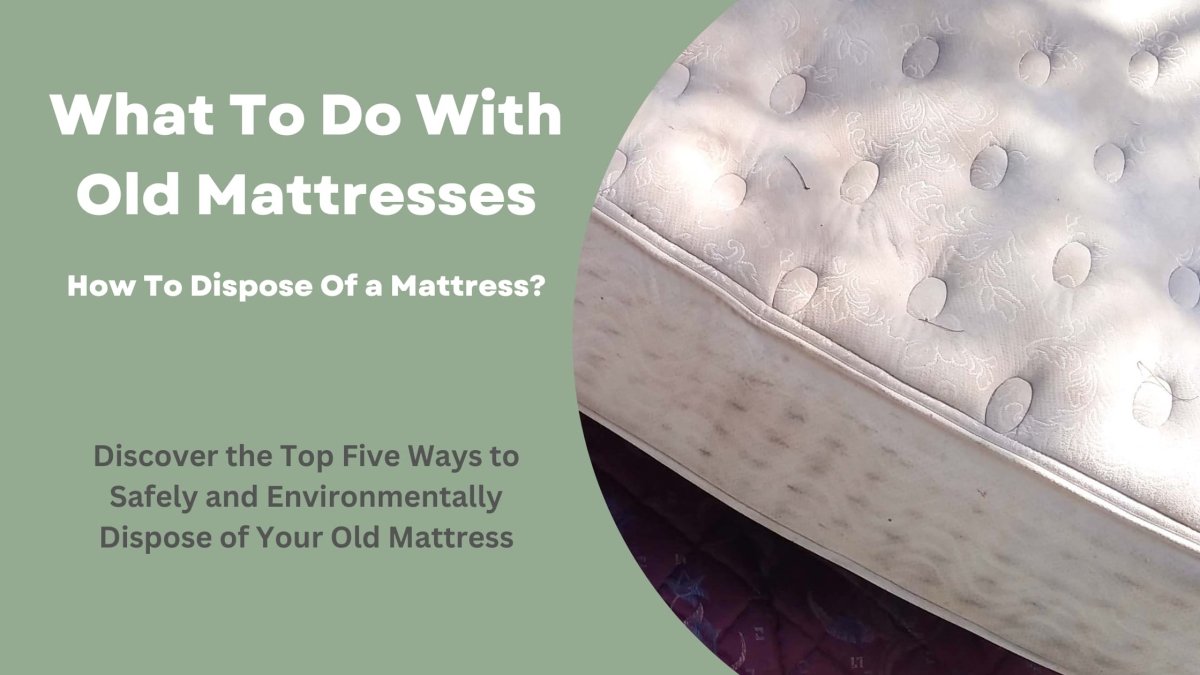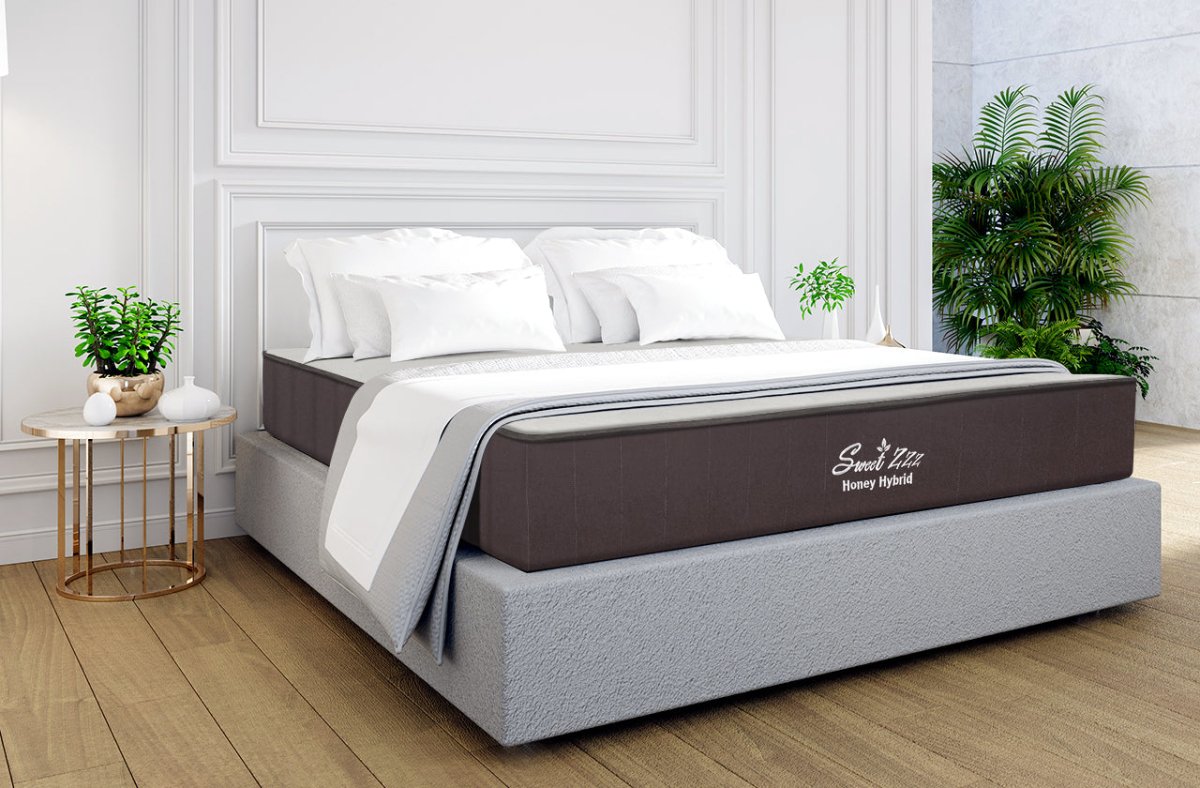 It has been estimated by the Mattress Recycling Council that close to 20 million mattresses end up in a landfill every year, our goal here is to help you find better ways to dispose of your mattress, so we don't damage our beautiful earth as much as possible. Besides, this will help you keep your houses curb appeal.
If you are moving to a new place and want to dispose of your old mattress or if your mattress is simply too old and you are replacing it with a new one, here you will find the top five ways to dispose of your mattress in a safe and environmentally friendly way.
1- Donate Your Old Mattress:

An average lifespan of a mattress is between seven to ten years. If your mattress is still in good condition, then you may consider donating it. This way your old mattress can still serve a purpose as many people in need would still prefer a used mattress over none at all.

That being said, there are several things to look for before you even try to donate your mattress. Your mattress must be in donatable condition before you try to donate it as most donation center will not accept it. Luckily for us, they all have very similar standards that I will b covering here. Simply make sure your mattress doesn't have the following issues before donating it:

-Make sure your old mattress has no visible rips or visible damage of any sort. The reason why donation centers won't accept a mattress that has cover damage is because a lot of them will try to sell it again and they won't change the cover so if it is damaged, they won't accept it.

-The mattress has to show no stains what so ever because of a couple of reasons. First, stains mean that the mattress is not sanitary at all and the new user might be in danger of using it. Second, any liquid damage will cause the foam of the mattress to compress meaning the mattress is no good anymore, so the donation center won't accept it.

-Mattress Sagging in the center of the bed or on the edges. This one may look simple but there are several reasons why they won't accept a sagged mattress. First, most mattresses sag because their coil is rusted and or their foam is compressed due to dust mites taking over the mattress for years and this kind of mattress is only good for recycling. Second, as I said before if donation center may use the mattress or sell them to help with the money they make and either way the mattress must be in usable condition for them to be able to use or sell it.
Where Can You Donate Your Mattress:

1- The Salvation Army:
The Salvation Army is one of the oldest charity donation centers out there. They have been helping families since 1865. They help approximately 25 million Americans annually and they operate in multiple countries including Canada.
They offer free pick up of mattresses and box springs in most cities in the US, to see if you can donate your mattress with Salvation Army check the following link:

2- Furniture Bank Association of America:
They operate over 90 donation centers in North America. Their mission is to provide home furnishings at little or no cost to individuals and families living in poverty.
You can donate your old mattress if you are 20 miles or less from one of their locations. If you are close to one of their location, contact them to schedule the pickup of your mattress. List of U.S. furniture locations


3- Donation Town:
They started in 2008 as an online directory of charities that offer donation pick up service.
Put your zip code and the website will show you the available charities in your local area. Donation Town Website

4- Find a Local Charity:
Unfortunately, after the amazing take off of the bed in a box industry, the mattress returns increased and so most charities had their work cut out for them. Most of the charities decided that they won't accept mattresses anymore and there aren't many lefts. That being said, you should always try your local donation centers. It is also a good idea to contact your local church and see if they can accept it.
2- Recycle your mattress:

If your mattress is in a bad condition and very old, then donation centers will not take it, so your second-best choice will be to recycle it.
Almost all parts of a mattress can be recycled. Most mattresses consist of foam, coil, cotton, wool and since almost all these materials are recyclable your mattress doesn't hurt the environment as much.

If you live in California, Connecticut, or Rhode Island then these states have a new mandatory recycling program for retailers so if you buy your mattress in these three states ask for a delivery the retailer to pick up your old mattress for a fee or you can go to Byebyemattress.com and see the closest recycling facility near.

Another option would be to go to Earth 911 website and put your zip code to find out the closest recycling centers near you.
Recycling your mattress is usually not free, expect to pay a small sum but the small amount you pay is worth it to save our environment.

Junk Removal:

If no donation service or recycling company was in your area then the next choice is junk removal service, many junk service companies will try to recycle your mattress anyway so don't feel bad about giving your mattress to them and thinking it will go in a landfill and negatively affect our environment.

Here are two junk removal choices that are nationwide:
They operate nationwide, you can put in your zip code and check availability online. They take old mattresses and donate, recycle and properly dispose of them.
Once the appointment is set, they will give you a two-hour window for pick up and call you 30 minutes in advance to tell you they are on their way. They may even accept mattresses with bed bugs if the customer gives advanced notice.
They operate nationwide and have competitive pricing. They will take mattresses with bed bugs also with advance notice.
When they pick up the mattress they will attempt to donate, recycle and dispose of it properly.
3- Sell your old mattress:

If your mattress is still in good condition, you can put it on craigslist or other similar websites and try to sell it. You won't get a lot of money for your old mattress but it's a good way to dispose of your it and the buyer will come and take the mattress from your place so the hassle is somewhat less.

FAQs:

Can you donate an old mattress?
You need to check with your local charity first but if your mattress is in good condition and has no rips, stains, or sagging then some charities do take your old mattress like the Salvation Army.

Can you throw away a mattress in a dumpster?
First, it is always better to ask your trash company if they can take the mattress for free. Most trash companies offer a few large item removals a year and a mattress is worth using this service for. If you're disposing of many items in your home including your mattress, renting a dumpster is a good option for getting rid of all your junk at once also. Check with your local sanitation service to see if they offer this service and for how much.

Can I put a mattress out for garbage?
As part of your sanitation service you might have few bulk item removals per year, after checking with your local sanitation service and requesting bulk item pick up, put your mattress in a bag and place it outside with your garbage, on the day that your garbage is picked up they will also pick up your mattress.

How do you break apart a mattress?
1: Cut and pull the cord from the mattress edges.
2: After that simply remove the mattress sides.
3: Then, Pull the top fabric off the mattress. If your mattress has a zip-able cover then just take the cover off.
4: Remove and recycle the foam.
5: Cut and recycle the metal springs.

Can you donate your box spring?
Some charities will take your box spring if it is in good condition. It is somewhat unlikely that the donation center will drive to you with a big truck just to take your box spring alone. Donation centers usually want to take the set meaning the mattress and the box spring if available and not the box alone.

Can you recycle your box spring?
Yes, ask your local recycling company if they take box spring. Though through my research I found that recycling or junk removing a box spring costs as much as a mattress. So it is really worth it to spend the cost of a new box spring getting rid of the old one?

Can I put a box spring out for garbage?
As part of your sanitation service you might have few bulk item removals per year, after checking with your local sanitation service put your box spring in a bag and place it outside with your garbage, on the day that your house garbage is picked up they will also pick up your box spring.

How to get rid of your old Bed Bug infested Mattress?

-Call your local sanitation service for bulk item pick up, many of these services offer free bulk item pick up or for a small fee.

-1-800-GOT-JUNK: Just make sure to let them know before the pick-up date that your mattress has bed bug. This service is not free but has a small fee.

-Load Up: Let them know before picking up that your mattress has bed bugs. This service also is not free so expect to pay a small fee for your mattress disposal.

Does Habitat for Humanity accept mattress donations?
No, Habitat for Humanity does not accept mattress or box spring donations. If you are close to a Salvation Army, they will more than likely take your mattress if it's in good condition. Some guides will tell you that Habitat for Humanity will take your mattress, but their info is outdated. As of now, Habitat for Humanity does not accept mattresses.

Does Goodwill accept mattress donations?
No, like Habitat for Humanity, Goodwill will not take a mattress, box spring or pillows, it will be best to try the Salvation Army.

When should I replace my mattress?
Most mattresses live a good seven to ten years before they must be replaced. The saying an average mattress doubles in weight after ten years is actually somewhat true. That because we lose dead skin cells in the millions every day and they are the main source of food for dust mites. Together with a large colony of dust mites, your mattress will increase in weight and it is a very bad extra weight! Even if there are ways to protect your mattress for a very long time it's always better to changes every ten years or so at least.

How can I keep my mattress in good donateable condition?
If you plan on giving your mattress the best life it deserves and donate it later, then you should do a couple of things for it.

First, always keep it protected with a mattress protector. A mattress protector will ensure that no sweat, dead skin, pollen or even dust to get inside the mattress. This results in a very healthy mattress that is not dust mites infested. It will also prevent the humidity from our body and our sweat to rust the coils inside and compress the foam. Basically, a mattress protector is your number one tool to keeping your mattress good for donation or not.

Second, rotate and (or) flip your mattress once every six months. This way the heaviest part of the body will not rest on the same spot for more than six months increasing the overall longevity of the mattress in the process.

Third, use the mattress for sleeping only. Mattresses are made with sleeping in mind and not sitting or watching TV. While sitting you concentrate your weight on a specific spot causing that spot to sag faster. Sleep, on the other hand, distributes your weight on the mattress almost evenly.
Top Picks For You
$119.60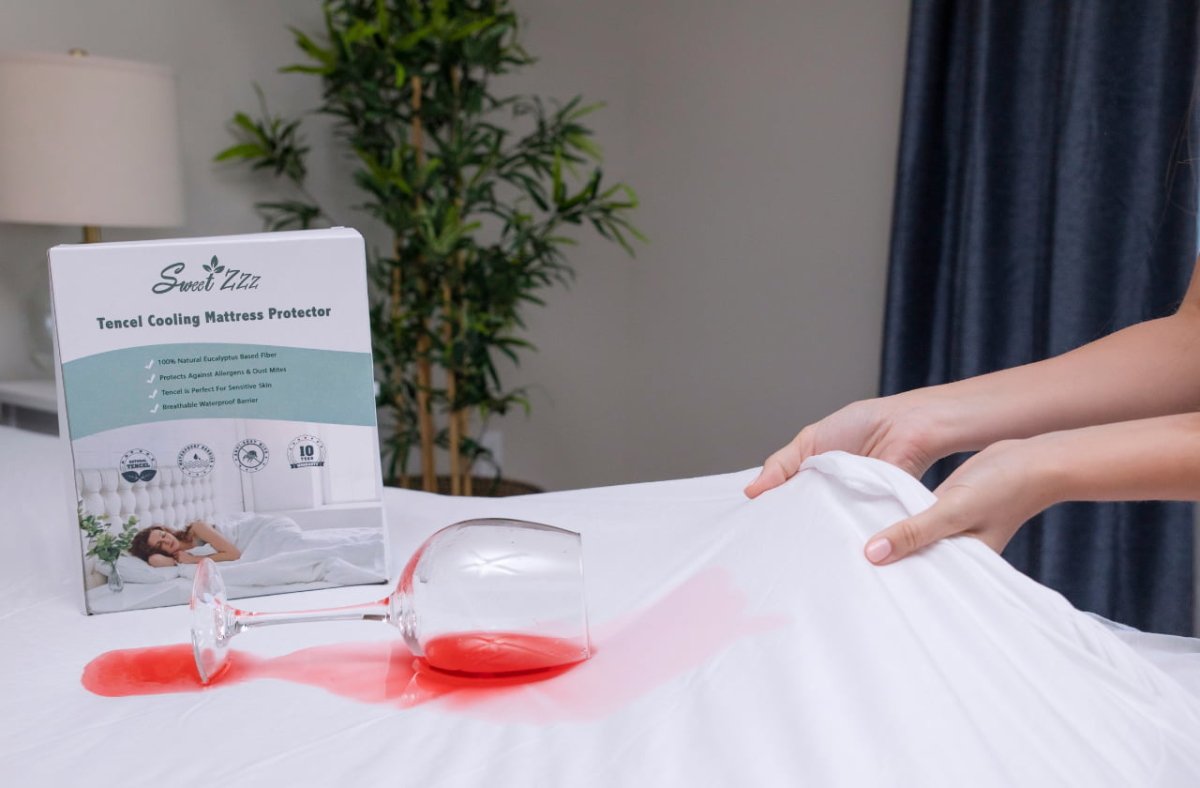 $64.50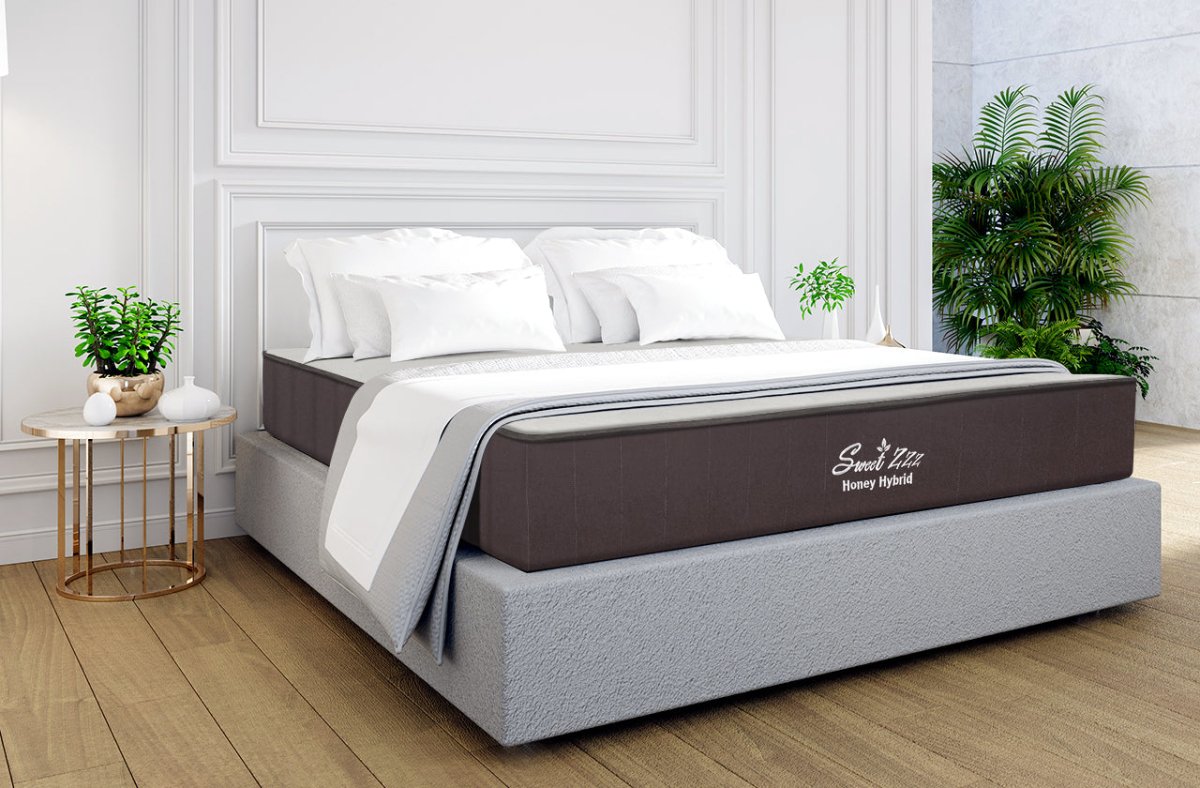 $899.00
---